"If we are always arriving and departing, it is also true that we are eternally anchored. One's destination is never a place but rather a new way of looking at things." Henry Miller
Whether arriving or departing from Newcastle Central Station, Destination 1850 is the perfect anchor to take some time to contemplate where you are going and where you may have been.
Located in the station's glazed portico entrance, beneath the historic stone faced, with comfortable seating and stylish décor, there's no better place to fix your appetite before a long journey, meet friends before an exciting weekend away or relax after a long day's travelling.
Brunch is served all day every day, along with a delicious menu of fresh wraps, stone-baked pizzas, loaded fries and delicious salads, and whether you fancy a cold beer, a cocktail or a steaming hot latte, you'll find it all at Destination 1850.
If you haven't got the time to stay a while, don't worry many of our items are suitable to grab and go!
History of the Railway Station
Newcastle Central Station is one of the great monuments of the early Railway Age, and remains an important and busy station to this day. The station was designed by the architect John Dobson and was formally opened by Queen Victoria and Prince Albert on 29th August 1850.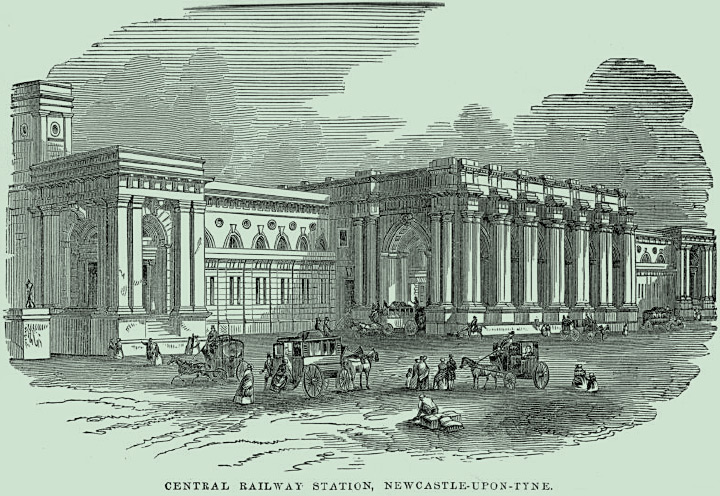 Whilst the portico is not as grand as the original designs laid out, which would have seen the portico stretch the full length of the station, it is still regarded as one of the countries 'cathedral' stations and only one of six railway stations in the UK to be Grade 1 listed.
The Central Station's development and opening went hand-in-hand with that of the High Level Bridge, which was completed a year earlier, and paved the way for the first direct Newcastle to London rail services. Interestingly the explosion in rail travel also helped the rapid growth of professional football in the late 19th century as newly-formed clubs could easily send their players around the country to take part in games.