The city of Newcastle is a flourishing small city with huge amounts of charm. Whether visiting for culture, shopping, nightlife or events there are plenty of places to explore as part of your journey.
We have selected a few of our favourite watering holes and restaurants we would take our friends to if they were visiting this fantastic city.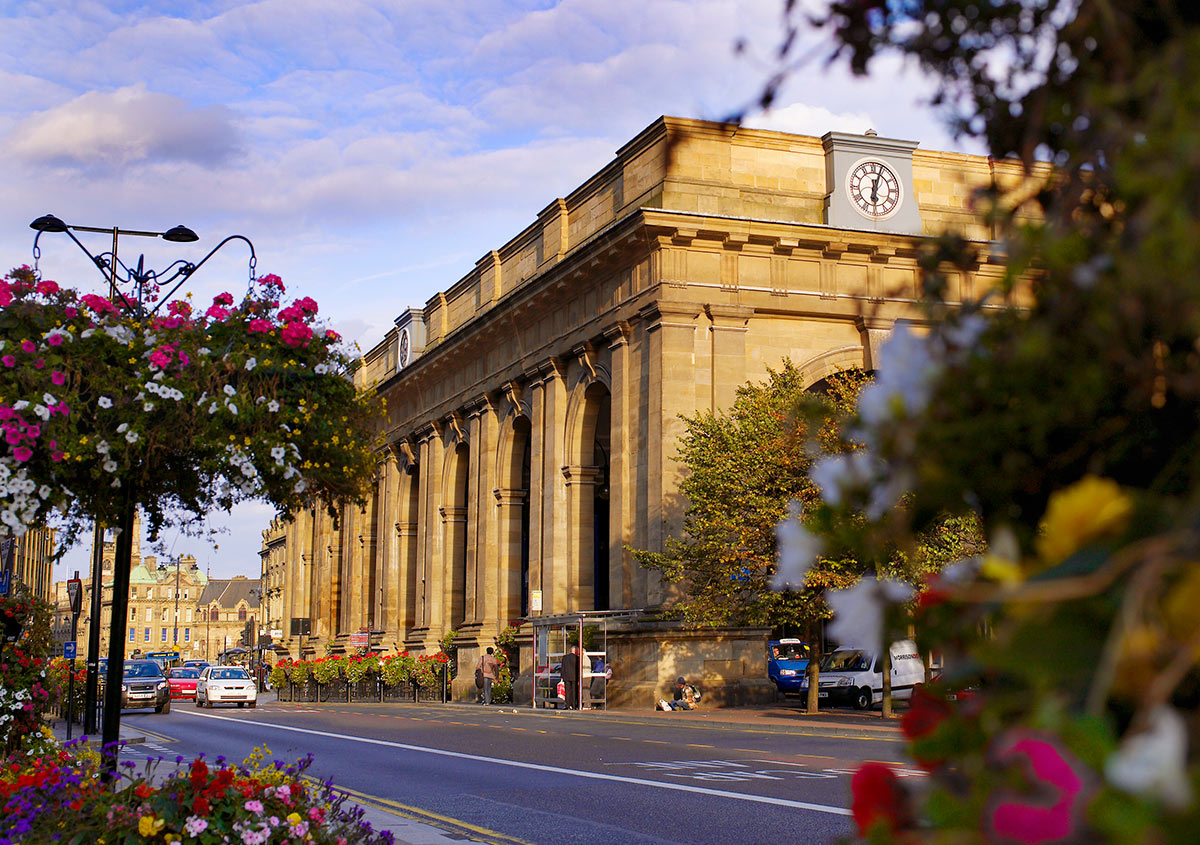 As soon as you get off the train you are surrounded by fantastic bars, pubs and restaurants all perfect to refresh yourself after a long journey.
The Gunner
This brand-new gastropub is situated right opposite the train station and is a firm favourite for cocktail lovers and beers drinkers. A popular place for meeting up with friends (even four-legged ones that woof are welcome).
The Town Wall
This grade II listed building is now used as a public house and eatery. Just opposite Central Station, this venue a huge hit with the locals and offers a great selection of vegan and veggie options.
The Forth
The Forth is a quiet hotel with a lively atmosphere. Serving up food and drink it's a contemporary bar with classic pub features. With beautiful chandeliers and cosy fires, this is definitely the place to get those perfect Instagram shots.
St. Sushi
This Japanese restaurant serves up an authentic taste of the east. There are over 100 Japanese dishes on the menu so there is definitely something for everyone!
The Hudson
Located in the historic County Hotel, this bar is a luxe hotspot. Situated just opposite Central Station, it's the perfect place to kick back and relax before your journey. With seasonal menus and expertly crafted cocktails it's perfect for whatever the occasion may be.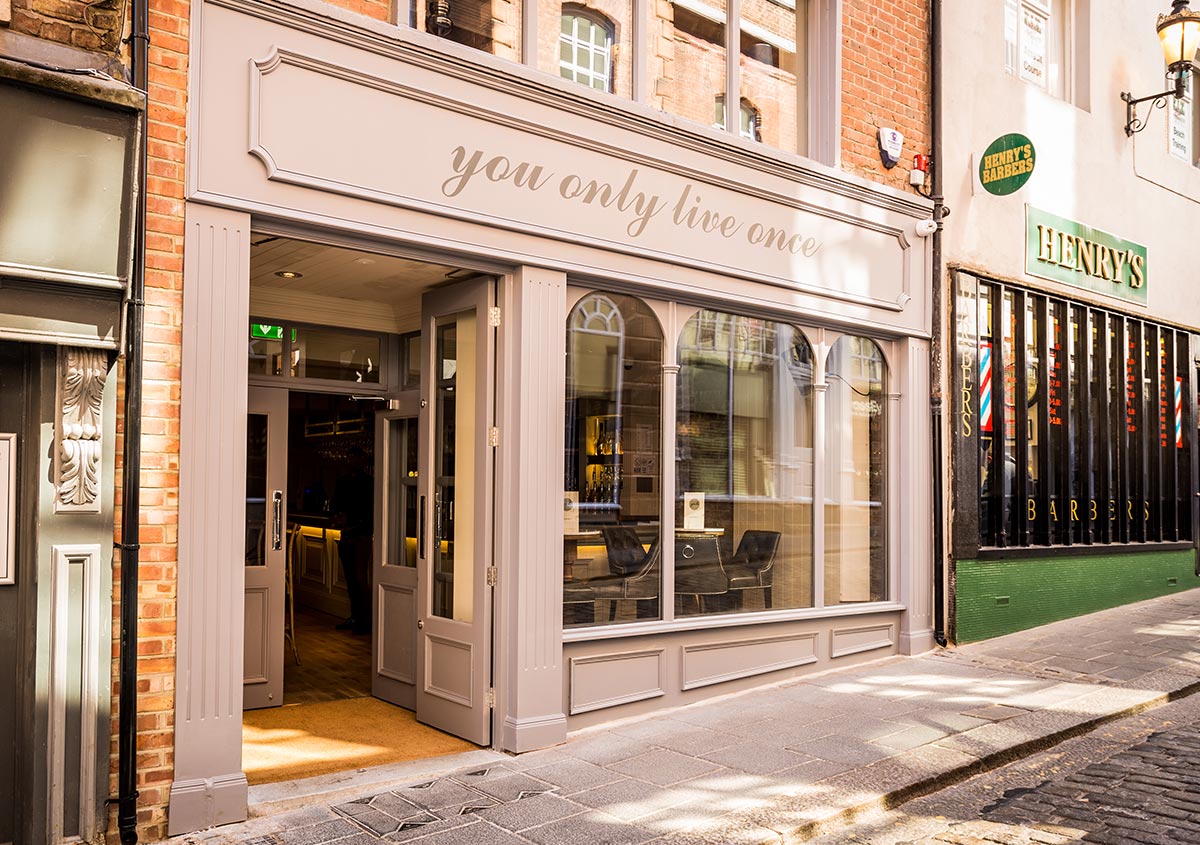 A medieval cobbled street in the heart of Newcastle filled with hidden gems. The street is filled with quirky independent shops, boutiques and places to eat and drink. Nestled between the infamous Bigg Market and historic Grainger Town it's the perfect place to stroll along and be spoilt for choice with places to try something bespoke to our great city.
YOLO Townhouse
Enter the Townhouse and receive a warm Geordie welcome along with a good pint and an exciting cocktail menu. This bar and eatery is spread over three floors and if you venture to the top floor you'll discover a hidden intimate rooftop terrace to sip on some fizz when the sun is shining.
Please to Meet You
With an ever-changing array of craft beers, international gins, world wines and cocktails to die for, this timeless bar is a firm favourite on the Newcastle nightlife scene and a haven for gin lovers.
D.E.A.D.
Not as grim as it sounds! Drop Everything And Drink is a micro-brewery for those who want to take time out to enjoy life. It has a proper cosy pub feel, with muted lighting; a specially-constructed wooden bar at the back and seating made out of more reclaimed wood with cushions and chill-out music adding to the comfortable feel and relaxed vibe.
Kaltur
This wine bar and restaurant specialises in the tastes of Spain. Homemade tapas and wine are what most people come for, but their paella is a speciality, taking 45 minutes to make fresh for you in the restaurant.
Panis
This café is the first true Italian/Sardinian café in Newcastle. With dishes made with the finest ingredients imported from Italy or sourced locally. They have never stopped developing their dishes and every dish has a Sardinian theme.
Dabbawal
These are pioneers of Indian street food. The restaurant has a relaxed ambience and homely feel. The perfect place to enjoy a nutritious Indian meal to feed the body and comfort the soul.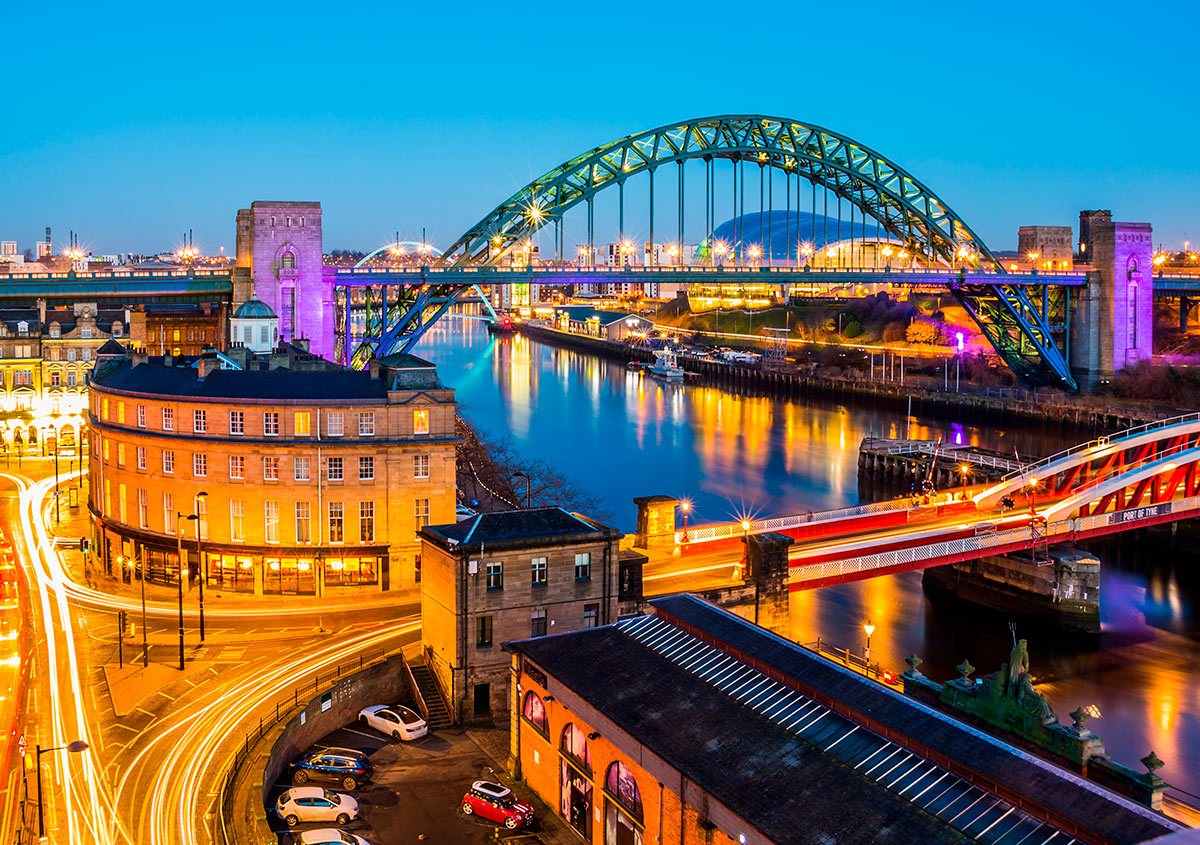 Wander along the banks of the River Tyne to take in some of the magnificent architectural masterpieces, from the iconic Tyne Bridge to the Sage Gateshead and Millennium Bridge, the views alone will take your breath away.
By The River Brew Co.
Enjoy craft beer and street food at this hip spot under the Tyne Bridge made from shipping containers.
House of Tides
This Grade I listed 16th century house now serves its purpose as the only Michelin Star restaurant in Newcastle. This casual fine dining restaurant has an emphasis on natural, seasonal and sustainable food.
Tiger Hornsby
This beautiful bar is known for its award-winning cocktails and unique interior. Their food is nothing to pass by either, have some small nibbles with your drinks or treat your group to a delicious sharing board.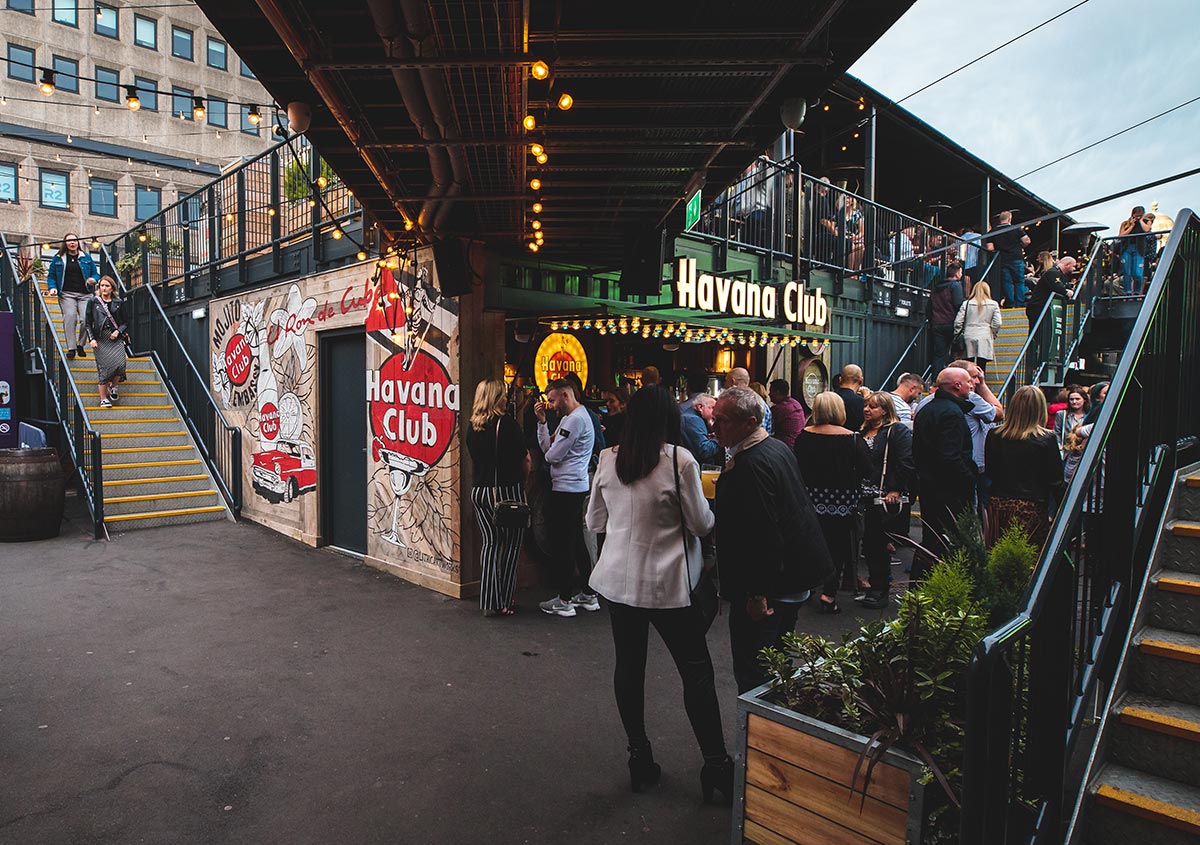 Pilgrim Street is right in the centre of Newcastle and is becoming the new place to be for nightlife and street food. The area may have stood dormant for years but is now full of life thanks to the opening of a vibrant shipping container village in 2018.
STACK Newcastle
Made from over 50 shipping containers filled with independent operators offering a tasty mix of street food, casual dining, bars and retail. The central plaza area is where the party's at. Be entertained on a nightly basis with live music, quizzes, movies, karaoke and pop-up events from Tipis to Ice Bars, there is always something vibrant happening at this trendy hotspot.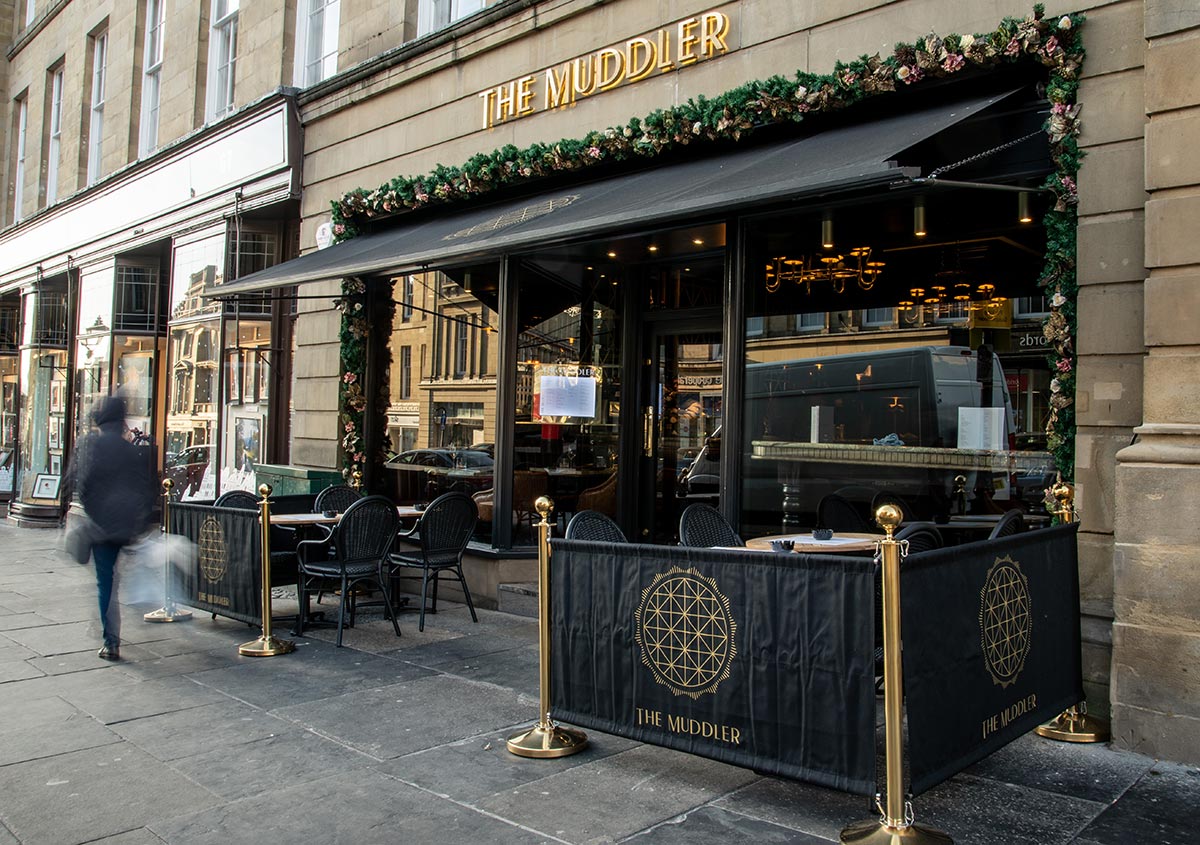 With classical architecture dating back to the 1830's Grey Street is one of the most beautiful streets in any city, anywhere. The street is filled with bars and restaurants and also houses the majestic Theatre Royal. It is certainly the place to be in central Newcastle upon Tyne.
The Muddler
Serving Pan-Asian food and exquisite cocktails from lunch until late exclusive to the luxury restaurant. There is a creative mix of flavours, with nothing else like it in Newcastle.
Night Hawks
Open till late, with drinks galore, this is a favourite for theatre goers being situation just next the Theatre Royal. It's a cosy bar that is full of atmosphere.
Dacantus
This specialist gin bar and has gins from around the world and a variety of different tonics. Even though this cosy venue is small it has a lot of charm and sure to be perfect for any gin lover.
Harry's Bar
This popular city centre bar is well known for its wide range of cocktails. Open for breakfast, lunch and dinner the bar thrives all day long.
The Botanist
This restaurant features a giant picturesque blossom tree in its centre and stunning antiques lining the walls… and the food is just as impressive as the interior.
Banyan
This lively venue serves modern British cuisine in the city centre of Newcastle. Known for their cocktail trees, this is popular venue for a stylish celebration.